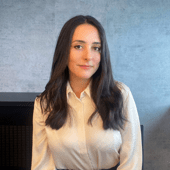 Meet Manuela Venturi - Director of Data and Analytics

We are delighted to introduce Manuela Venturi, Director of Data and Analytics at team.blue. Manuela joined our team.blue family 5 months ago with the goal and ambition to unite our regional data and analytics activities across team.blue.
We asked Manuela a few questions and here's what she had to say:
Can you introduce yourself?
My name is Manuela Venturi. I live in Florence (Italy) with my husband and our 1.5 year old daughter.
I joined team.blue 5 months ago, after 2 major steps in my career.
First, I used to be a scientist, working as a particle physicist at CERN (the European proton collider) and taking part in the discovery of the Higgs boson. What a time to be alive!
Then, I spent 5 years as a consultant at Bain&Company, one of the top-3 strategy consulting firms in the world, helping banks and tech companies create value using data science as well as having lots of fun!
And now, I don't expect anything less from team.blue ;)
What made you decide to become part of our team?
From the very first interactions with the team through the interview process, I got a very positive, warm feeling of being "at home" – among super-driven, smart people, with an analytical, data-driven approach at their core. I felt I could thrive in this environment where people think in the language of data and analytics, so it was easy for me to decide to sail towards this new adventure.
How have your first months at team.blue been, and what are you looking forward to the most?
They've been quite a ride! I have found a really welcoming environment, even exceeding my expectations. Everybody has been supportive and patient in answering my newcomer's questions, helping me to get out of my comfort zone and pushing me to new domains. Every day for me is "let's see how much I can learn today" - there's so much to discover! To be honest, I am a little bit looking forward to the moment when things will become "normal routine" again for me.
Can you explain what you exactly do as a Director of Data and Analytics at team.blue?
My role has been established with the goal of bringing group-wide consistency to our regional data and analytics activities.
Our regional teams have a long history of managing our data and building the best analytical solutions to look at our performance in all domains (financial, customer, product…) so the ambition now is to unite them, leveraging best practices for the benefit of the whole company and becoming one team.blue.
Our activities range from building the warehouse hosting the data to defining and maintaining the "source of truth" across our company, helping users get to the most relevant data insights, and finally, building powerful advanced analytics algorithms to uncover what's laying just beneath the surface of our data.
What is the best thing about being part of our team.blue family?
I'm very lucky since I'm standing on the shoulders of giants – namely the great people from the central and regional data teams, who made me feel included from day 1 and gifted me by sharing all their precious experiences. We're having fun working together, and it's amazing to see how, from any discussion, we manage to come to the best common solution, in harmony and unity, working towards a common goal.
What would you say to someone who is considering applying to work at team.blue?
What are you waiting for?!
If you are a smart, passionate, ambitious individual, who wants to be part of one of the leading, fastest-growing tech companies in Europe, this is definitely the place for you… and if you are a data and analytics geek, come and join my team, as we're hiring. :)
Do you want to join Manuela's team? Check the open position and apply here: https://careers.team.blue/jobs/2064624-bi-developer-team-blue-data-warehouse