Women at team.blue
Here at team.blue, we take gender diversity very seriously - we want to encourage women into the tech sector and empower them to achieve their career and life goals. Today we have around 480 incredible women working across team.blue at every business level. Whilst this represents about 1/3 of all employees, we want to open the door for more women to realise their potential.
Our focus is the professional equality between women and men and building a place where women want to work. At every brand across team.blue, we ensure that our employees work in a great environment where they feel represented, have a sense of belonging, and are supported to achieve their own goals.
According to the World Economic Forum's Gender Gap report 2021, women will have to wait for around 135 years to achieve gender parity. The impact of Covid-19 has increased this wait by a whole generation - from 99.5 years to 135.6 years!
We know the importance and value of increasing gender diversity in the workplace and want to do our bit to accelerate this process. We invited some of our amazing women to share their journey, experience and insight from within the group, and we hope to inspire more women to join us.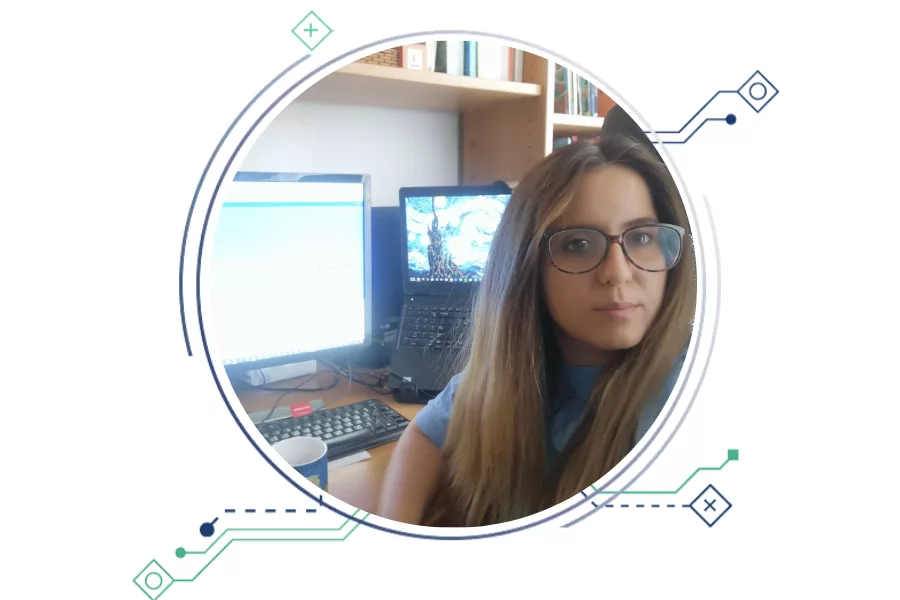 Voula Troulaki has been working as a Software Engineer for about fifteen years at Enartia, a team.blue brand based in Greece. She said that she feels very empowered by the company as a woman. "I don't meet many women in tech in Greece, and I think that needs to change. Women should work where they want to and in whichever industry they like. I hope we will have more women working in this sector in the near future. The company has always been great in supporting me at work. There is no difference between employees - everyone is treated equally and have the same opportunities."
Voula works remotely from home and intends to keep working like that. In her opinion, working from home is a benefit to her. She can manage her work-life balance easily and have more time for personal stuff.
Voula would like to offer this advice to women out there thinking of a career in the tech industry - "Follow your dreams in whatever they may be and try to find a company that makes you feel comfortable at work and like you belong."
She also shared what has been her driving force to get where she is today: "I always wanted to be happy in my day-to-day work. I believe in living in the moment. I have found a great environment with interesting people around me, encouraging me to be the best version of myself every day."
Enartia, where Voula works, joined team.blue in May 2021. She shared her thoughts about being part of the group - "I feel very excited, and I am waiting for new experiences with team.blue. It's a great opportunity for professionals from different countries to be able to exchange experiences about development, marketing and solutions. It's an opportunity to meet new colleagues and share new ideas."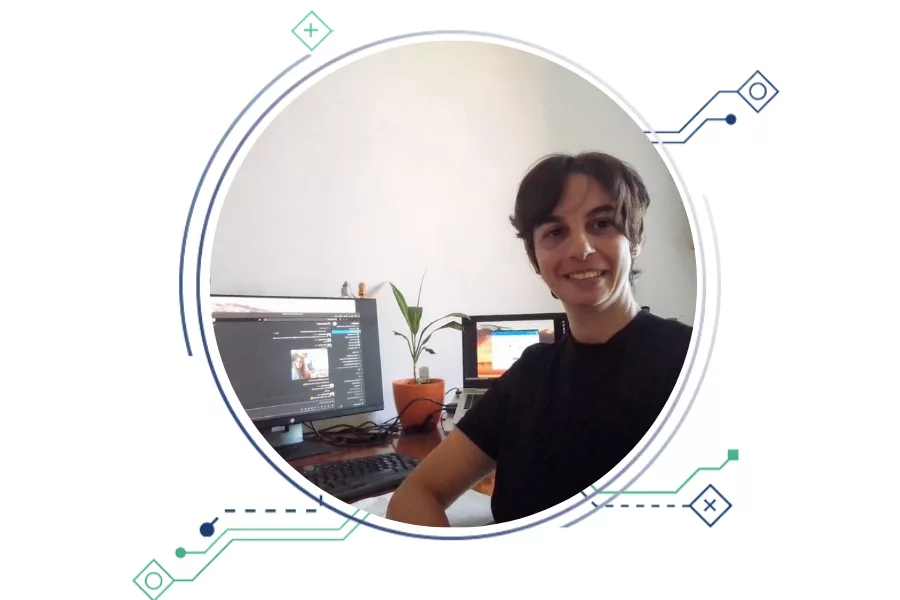 Sara Vatrella, a PHP Programmer from Register.it, a team.blue brand based in Italy, said she always wanted to be a techie. She has worked at Register.it for over ten years and feels very happy there and with her decision to pursue a career in the tech industry - "I started with my little telescope when I was 11 years old, I have always been drawn to tech, it is my passion, and I love working in this industry. I feel good about being a woman in tech. The Italian landscape is a bit behind and sometimes a bit sexist, but I have never found that at Register.it. It is part of what makes me stay. We are trying to find more females at tech and open the door for them."
She is also pleased to be able to work remotely. It saves commute time, allows her to focus more easily on work and means she enjoys an outstanding work-life balance.
Register.it has been a driving force for her to get where she is now, "The company helped me in my career, they were very welcoming from the start with no dress code, flexible working hours and if I have a personal problem, they will support me and adapt to it. I feel like they will always help me to grow."
Being part of team.blue is a really positive thing for Sara: "I feel very happy and excited about it, Register.it was already a multinational company, and I came to work here because I wanted to go to other countries and work with different people. When Register.it became part of the group those horizons were expanded even further - it's so nice that we can talk with people from other countries daily. We are a resource for each other, and we get to speak in different languages, where we can."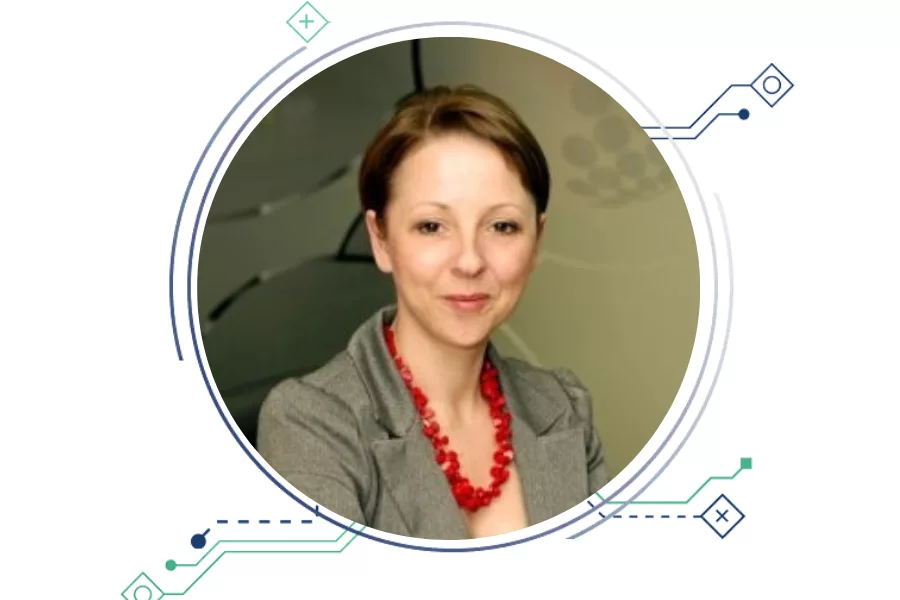 Kelly Salter has been working for names.co.uk, a team.blue company with brands in the UK & Ireland, for more than 14 years - she is Head of Marketing. She said that she loves being a woman in the tech industry - she said, "when I walked in my first conference, it was pretty much all men - I didn't mind because I've never wanted to be the same as everyone else. Life would be dull if everyone was the same, and all the new ideas will dry up. We need new people looking at things from new angles and shaking up the norm in this industry. Change comes from having people from different backgrounds and genders."
What excites Kelly about the tech industry is how quickly the internet grows and changes. This expansion means that there are always opportunities for many different types of people. Kelly said, "I always think that when someone registers a domain name, it's an idea to be born - and that's so exciting. Obviously, not all of them become booming businesses, but each domain represents a first step. I still sometimes look at the domains being registered, and I can see the ideas they had. I just hope that they believe in themselves enough to push it forward and try to make a success of it.
Kelly works between the office and home - she likes to have face to face contact each week to help maintain relationships and support communication with her colleagues. "We make a huge effort to make sure that we are arranging meetings and collaborative sessions with other departments because they see things from different perspectives. Through these conversations, you get different viewpoints and ideas, and it's so valuable for us as a business."
The driving force behind where Kelly is today are her colleagues: "I have a boss who encourages and challenges me. He has allowed me the freedom to take new tasks and is always there to guide me. This company definitely encourages people to progress and push themselves to realise their potential."
Kelly also shared her thoughts about her company being part of the team.blue family: "I think the most positive thing I have seen since being part of team.blue is the collaboration between different teams in different countries. We are sharing best practices and results and sharing ideas, and that is definitely exciting."
Kelly's hope is to inspire and motivate more women to join the group. "We have struggled over the years to get women to apply, especially for the more technical roles. We will never be more diverse if we can't encourage people to take the first step and talk to us. We want people who have passion for what they and who we can empower to get more experience and develop in their career."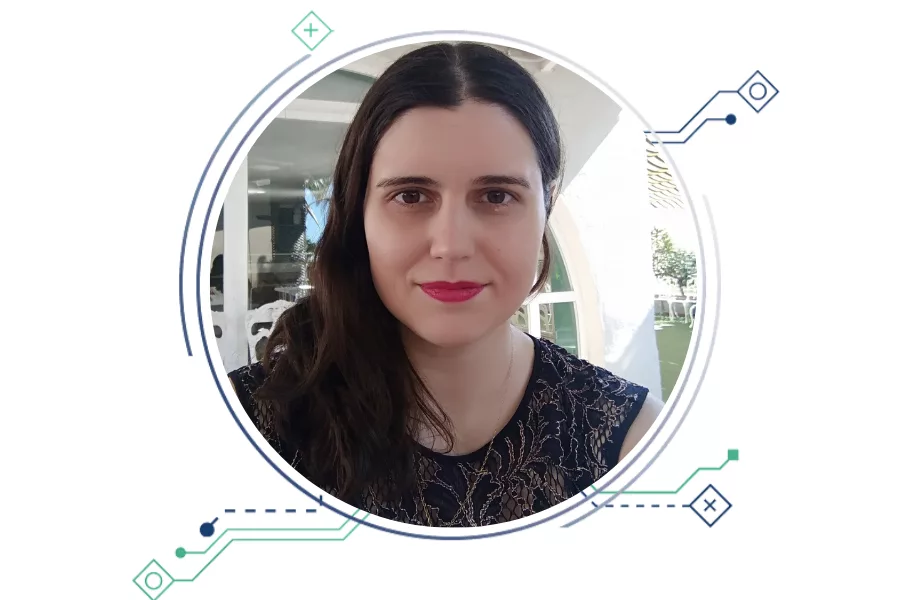 Jana Illa has worked for Nominalia, a team.blue brand based in Spain, for 5 years. She started at the company in the Telephone Support Department, and now she works as a Technical Support Specialist. As a woman, she feels she has been lucky to work at one of the team.blue brands. "I have always been welcomed in the field. I know there are more males in the industry, but there are more women than men in my department. When we had an opening, my boss and colleagues encouraged me to take on the new challenge. At Nominalia, we are very diverse, and we truly believe that the most important thing you can bring to the company is the knowledge you have."
Jana's advice is: "Never let others underestimate you and don't underestimate yourself. We, women, tend to do this a lot, and it has to change - always believe in yourself!"
For Jana, her colleagues are why she is where she is today. She said "all my co-workers helped me when I arrived... they are amazing! They welcomed me and made me very happy. I know that I can rely on them - if I have a worry or want to learn something new, I know I can ask my colleagues. The company is always helping us to improve. The managers from all departments are here for us and support us with our learning and development. They are always doing what they can to open doors for women."
Jana also said that she likes where she is right now - "In this company, you can grow a lot, but I really like where I am right now, and I want to keep in this position. I am good at what I am doing, and I have improved myself a lot."
We are proud of every one of them, but we want to invite more women to come and be a part of team.blue.